How to Play Woodwind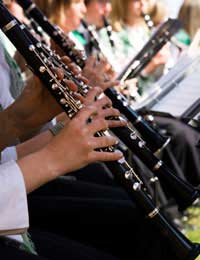 Clarinet, bassoon, saxophone, oboe, English horn…they're vastly different instruments, but have one thing in common; they're all part of the woodwind family, which means they're played by blowing through a reed in the mouthpiece, the notes being made by different fingerings of pads on the stem of the instrument.
The Instruments
You'll find that the instruments piece together from sections - the clarinet, for example, consists of eight pieces, including the reed and the cap (which protects the reed when you're not playing).
Regardless of the instrument, the reed is your most vital part - without it, you're not going to make a sound. For beginners, you need a reed with a 2 ½ to 3 rating, not too thick or too thin.
Assemble the instrument, wetting the reed in your mouth before you screw it in, and lining it up so the tip of the reed is level with the tip of the mouthpiece. Before you put the mouthpiece in your mouth, cover your bottom teeth with your lip, and then rest the mouthpiece on it, with your upper teeth firmly on the reed. Now blow hard. You might not get a sound, but keep trying until you do. It won't be pretty, and it won't be music, but you'll be learning how to use the reed. This is call "embouchure."
Fingering
Anyone who learnt recorder in primary school will remember having to learn the different fingerings for notes on the instrument. Woodwinds operate very much the same way, but instead of covering the holes with your fingers, you're moving pads that cover them. That can involve anything from ten to no fingers (to play an upper G on the clarinet, for instance, takes no fingers, whilst the lowest E employs all the fingers).
Those who learn clarinet will find the alto sax very similar in its fingering.
The Basics
Learn the fingerings for the different notes, and practice a scale moving up and then down. On a clarinet, the great difficulty comes when you go "over the break" which occurs at middle C. For novices it can be hard to keep an even tone in the upper register. Practice and persevere.
Regardless of the instrument you choose, practice is vital, for at least half an hour a day. Your mouth will become used to the reed, which is going to feel strange at first (your lips might feel numb). Become used to making fluid, smooth scales, both up and down.
Playing Tunes
You won't be playing like your heroes anytime soon, and you should accept that. Skill like that takes years of practice and the kind of great talent few possess. But once you can master a scale and remember the fingering, you'll be able to move on to simple melodies.
It's best if you learn to read music, because then you'll simply be able to look at a score for your part. But many have thoroughly enjoyed themselves without doing that, and simply playing "by ear."
Choose simple tunes to begin with, anything from nursery rhythms to pop music. Choose pieces you recognise, which will enable you to play them properly. Again, don't expect miracles overnight. Practice makes perfect.
One of the problems with woodwind instruments is finding a place to practice. Until you learn to play properly, they make a racket - and it's not a soft racket, either. Be considerate - don't practice late at night or early in the morning, for instance.
More Advanced
As you become more proficient, take advantage of every opportunity to play with others. It will improve both your playing and your timing, and expose you to fresh ideas that can help you as a musician. Part of the joy of playing music is sharing it.
Don't be afraid to improvise whilst playing. It will improve your confidence (and the fluency of your playing), let you know what works and what doesn't, and stimulate your imagination.
Because of the reed, woodwind instruments can take a while to master. But don't be discouraged. With time and effort you'll be playing mellifluously.
You might also like...