The History of Blues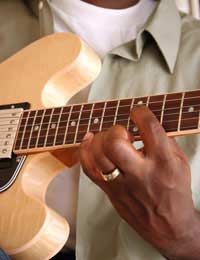 The blues is a cry of pain, a shout of freedom and a howling against the world. It's a simple music that holds complex emotions; a structure built around three chords that's become a universal expression of hurt.
The Early Days
No one knows when the blues started. It almost certainly evolved in the Mississippi Delta, probably out of the work songs and gospel music sung by former slaves towards the end of the 19th century.
It was first noted by composer W.C. Handy in 1903. He was in a country railway station one night, and heard a fellow traveller playing guitar, using a knife for a slide. The music was unlike anything he'd heard before, and he was inspired to use it in the pieces he composed. Based around three notes and chords - the first, fourth and fifth in the scale played in an eight or 12-bar cycle - it's simple to play technically, but mastering the emotions can take a lifetime.
Again, no one really knows whether the blues remained a localised form, or spread around the country. It certainly wasn't until the advent of widespread recording that most people heard it. And even then, the first blues records to make an impact - and they made a huge impact - came not from the Delta, but from big-throated singers like Bessie Smith, and the music not from the tradition of blues, but specially written by commercial songwriters.
The first of the Delta bluesmen to become known was Charley (aka Charlie) Patton, a gifted guitarist and singer who played all over the area, influencing a generation of blues players from Son House to the legendary Robert Johnson. Marketed as "race music" by the record companies, blues records often sold many thousands of copies, but the artists received only a performance fee.
Coming of Age
By the 1930s the blues had developed into an art form, with some of the guitarists remarkably skilled, whether finger picking notes or using a slide. Harmonica had become the accompanying instrument of choice. It was cheap, portable, and able to imitate so many sounds. And in the hands of a master like Sonny Boy Williamson it was a veritable orchestra.
The decade also saw the brief flowering of the man many acknowledge as the greatest bluesman - Robert Johnson. He left few recordings, but they're filled with a raw, deep power. Songs like "Hellhound On My Trail" still make it sound as if he was possessed by the devil, and he was reputed to have struck a bargain with Satan. Certainly he was the consummate performer, turning clichés into powerful statements, and playing with the kind of fire never heard before. He's reputed to have been killed by a jealous husband in 1938, although the true circumstances of his death remain as mysterious as the man himself.
Chicago Blues
The lure of good money to be made in the northern cities of Chicago and Detroit helped lure African-Americans away from the abject poverty of the Delta. They took their music with them as they flooded into the cities. Although keeping its base in the Delta, it became urbanised, and soon added electricity to volume, as well as other instruments, like bass and drums, to fill out the sound.
Muddy Waters - who'd grown up in the Mississippi Delta - became the leading figure in the raw Chicago sound, whilst John Lee Hooker, whose monochord sound harked back to West Africa, was the kingpin in Detroit. For more than 20 years the pair dominated the electric blues sound.
Blues Revival
The American folk revival of the late 1950s also brought a renewed interest in blues, and fans began searching for musicians who'd made early recordings. They found a few, like Mississippi Fred McDowell and Skip James, still alive, and gave them new careers on the college circuit as blues found a worldwide white audience.
Modern Blues
These days' blues has seemed outdated, certainly as an African-American expression. But it's far from dead. The Fat Possum label releases vital music from the Mississippi hill country, guitarist Buddy Guy continues the Chicago tradition, and younger artists like Corey Harris, Guy Davis and Otis Taylor keep mining the seam. The late Stevie Ray Vaughn was hailed as a guitar genius, and even Britain has produced its share of great blues performers. In America today, Bonnie Raitt remains a powerful blues figure, noted for her slide playing, and Rory Block is a mistress of the acoustic sound. As long as people have feelings, the blues will remain alive.
MUSIC LESSONS ONLINE IS FOR SALE.
This website is for sale [more info].
You might also like...
Hi, I was wondering if i can apply as a violin teacher? Thanks!
lifei
- 21-Mar-13 @ 3:50 PM
You could have pointed out that the blues has become a global phenomenon, so much so that different styles in different countries, like fado in Portugal, is referred to as that country's blues. It's a shorthand for that ache and the music of those who don't have anything. Though it might have been replaced in popularity, it's certain that blues won't go away as long as people are alive to play it.
Ian
- 30-May-12 @ 1:10 PM