Changing Teachers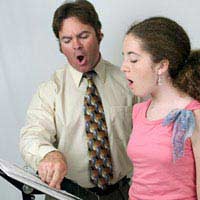 There can be a number of reasons you need a new person to teach you on your chosen instrument. It may be that, after a few lessons, you feel they're not right for your personality. Or it could be that they've taken you as far as they can, and you need someone else who can push you harder. It could even be because of a change in your schedule or something as simple as that.
How to Tell Your Old Teacher
Even if you discover the teacher isn't all you'd hoped, be polite. Explain that you feel this isn't working out, and you feel the need to look elsewhere for tuition. Any good teacher should empathise, and understand, maybe even more than you do, about the relationship involved.
If you feel you need a teacher to take you to a higher level, explain that carefully. Most teachers will be aware of their limitations, and will probably have contacts who might serve you well. It's quite common to change teachers for this reason as you grow, and many specialise in different levels of players.
It becomes harder if you need to change tutors for your child. First of all you have to know they're dissatisfied or need to learn on a higher level, which comes down to you being very involved in their musical education. A reluctance to go to lessons is always an indication of something - you're the one who has to discover what, exactly.
Finding a New Teacher
If you need a new teacher, you're not back to square one. You have your experiences to draw on now, a much clearer idea of what works and what, exactly, you need. If you seek a more advanced teacher, playing your best piece for them and ask for a critique. Find out exactly what they can offer you, how they can improve your playing.
Should you be seeking a new teacher because of personality, then this time you come in with some knowledge, however, basic, of the instrument. That makes it easier to get an idea of how a new teacher can work with you. If it's for your child, sit and watch how the two interact over a few minutes of teaching. A happy child will be eager to learn, and when young that's as important as what they learn.
A New Routine
You should remember that, although you're the paying customer, you're also the pupil. Each teacher has their own way, and will probably expect slightly different things from you - but that's all to the good. A shake up in routine can energise you.
Allow two or three sessions to be sure things work well between you and your new teacher. But one thing you don't want is to be constantly changing teachers - you won't learn that way. With your experience you should have been able to find someone good, so, unless an unforeseen problem occurs, stay with it.
It can be very gratifying when you switch to a new teacher and you seem to progress by leaps and bounds. However, don't constantly expect that. There can often be a big jump at first, but it will level out after a while. Don't be disappointed; it's simply the nature of things. Above all, don't give up.
You might also like...
@oliver. There is a problem with Jane's email unfortunately. Can you please send an email to cb@pts.com and I'll sort it out for you.
MusicLessonsOnline
- 27-Jul-15 @ 11:23 AM
Hello, This is a question to the site admin. I have tried to contact you several times and can't get a response from anyone. I have sent a Facebook message to your site owner Jane and have been ignored and tried to send an email to her email address and find her email address has mine blocked. So would one of you please explain why you are ignoring me and my query? The problem I have is that my teacher details need to be deleted and there appears to be no way to do it. And the hide my listing option also doesn't work. Great site guys... I moved abroad and no longer live in the UK. I can't teach any prospective students looking at this site because I am thousands of miles away on a different continent. Could one of you PLEASE actually do something and delete my listing please? I don't care if you don't even reply to me, (though it would be polite) but please just delete my teaching add. I was advertising for tuba lessons in the Vale of Glamorgan. I'd much appreciate it if you could please remove my details as I no longer wish to have them listed on your site. I suppose the next option is to see if a solicitor can help if you continue to ignore. Thanks, Oliver Browne
Oliver
- 23-Jul-15 @ 7:58 PM