Do You Need Qualifications to Be a Music Therapist?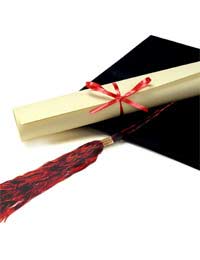 Q.
Do you have to have high qualifications to be a music therapist? Or can you just have experience?
If you need qualifications what do they consist of?
(M.A, 15 March 2009)
A.
A music therapist is a specialised job, employing your musical skills to encourage children, as well as adults with learning problems, using sound and music to gain confidence and express themselves by trying different instruments. Sometimes the sessions are one-on-one, sometimes in groups, and there can be a very wide range of clientele. Of course, in addition to patients, the music therapist has to work with other therapists and people in health care.
Depending on the NHS Trust involved, you can become an assistant music therapist with no qualifications at all, although they might require some experience in teaching, music, or community work for you to be effective.
However, to be a professional music therapist requires much more that that. Initially you will have to have a diploma or degree, preferably in music, whether it's from a music college or university. It's possible that a degree in psychology or education could be acceptable, but you'll also need to show a very high degree of proficiency in music. Exactly what 's required can vary from course to course.
With that background you can apply to take a postgraduate course, either a diploma or a Masters in Music Therapy, as long as it's recognised by the Health Professions Council and accredited by the Association of Professional Music Therapists.
Additionally, you might well be expected to have experience in working directly with the type of people you'd have as patients when a musical therapist. Usually this would mean having worked as a volunteer, and your local NHS Trust can give you details and provides opportunities.
In other words, the process of becoming a music therapist is more than a job – it's a real commitment, and the authorities want to see that amply demonstrated before you're likely to be accepted for postgraduate work.
Once on the course, apart from academic work covering areas like music therapy theory and infant development, psychology and more, you'll also receive hands-on experience through placements in hospitals, schools, and community centres. Even after you receive your qualification, your education will continue with courses and supervision by experienced therapists. It's not easy, but for the dedicated, the rewards are tremendous.
You might also like...
O am interested n volunteer work i have one passion which is music i write sell and perform also teach . I also built my own extensions so bricklaying slabbing fencing anything DIY . Any information would be greatfull. Kind Regards Sean
Sean
- 29-Aug-18 @ 9:08 PM
hmmm.music is really what makes me happy .i can 't stop thinking of it thank you .
frankey
- 29-Jun-15 @ 6:58 PM
It's best to start off by volunteering as a music therapist assistant to gauge whether it's really something for you, and also to assess whether there are any career openings – with the cutbacks in the NHS, openings are few and far between, which can seriously affect job chances, especially in the future.
kevin
- 26-Sep-12 @ 1:06 PM