The History of Jazz Music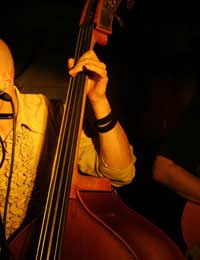 Jazz is a uniquely America form, and more specifically an African-American form. It grew out of the brothels and bars of New Orleans, the music of the underclass, and has evolved into a great treasure, one that's achieved global recognition.
The Early Days
Quite when jazz began is impossible to say. Certainly it existed in the first decade of the 20th century in a raw form, as musicians played in the brothels and bars of New Orleans, improvising around tunes and popular songs. The style they were forming would become known as Dixieland jazz, where, after stating the theme, members of the group would improvise against each other before returning to the tune and finishing.
One of the biggest early stars of jazz was King Oliver, still one of the greatest musicians to emerge from New Orleans, although he was eclipsed by his protégé, Louis Armstrong. Throughout the 1920s and 1930s, Armstrong pushed the boundaries of jazz with his Hot Five. His trumpet playing was exquisite, and his gravely signing voice became a signature.
He was far from the only star of the new music, but he did tower over the rest. Even Bix Beiderbecke, the young white musician whose life was fictionalised in Young Man With A Horn, couldn't compete.
Jazz Develops
By its improvisational nature, jazz couldn't remain static. The musicians were eager to try new things and push themselves. Yet, as the style became more popular, it also needed to be tamed a little and acceptable to mass audiences. That brought the rise of the larger dance bands in the late 1920s, with the musicians going out after to bars and clubs afterwards for late night jam sessions where they could freely try new things. Out of this grew the great bands of Count Basie and Duke Ellington.
Out of that came swing, with it's solid but springing propulsion and 4/4 time, which would be the dominant genre of jazz by the late 1930s, epitomised by small groups like that led by clarinettist Benny Goodman, or the big bands of Lionel Hampton or Tommy Dorsey.
With World War II, and the arrival of American forces overseas, the gospel of swing spread. The big bands not only featured musicians, but also singers (a young Frank Sinatra served his apprenticeship with Dorsey, for example), and bandleaders became stars. Glen Miller was a household name, and when his plane went down over the English Channel there was mass mourning.
After the war, once things reverted to normal, musicians were eager to move on, and in the clubs of New York. Be-bop, as it became known, seemed atonal to an older generation, an experiment with rhythm and melody, with faster tempos and unusual harmonies (although today it seems quite tame). It started the careers of greats like Miles Davis, Thelonious Monk, Charlie Parker and Dizzy Gillespie. Although many resisted the new form, it slowly took over, until, by the mid 1950s it was almost the norm.
The strands of jazz had grown during the Second World War. Its heartbeat might have been in the New York clubs, but a number of black musicians emigrated to Europe, where they found less prejudice. There were also jazz musicians on the West Coast of the U.S., from Los Angeles to Seattle (where a teenage Quincy Jones had a group with a young Ray Charles), and the Los Angeles developed its own cooler sound, more relaxed and melodic, typified by saxophonist Art Pepper.
Cool jazz became the new movement in the 1950s, taking the ideas of be-bop, but making them less frantic, and exploring the melodies more. Miles Davis' Kind of Blue album was its big launching pad, featuring not only Davis on trumpet, but saxophonist John Coltrane and pianist Bill Evans, both of whom would go on to stunning careers, with Coltrane taking music in a new direction with his album Giant Steps, and then to yet another level in the mid 1960s with A Love Supreme.
Modern Jazz
The father of new jazz is Miles Davis, in many ways. Particularly at the beginning of the 1970s he knocked down a lot of the barriers separating jazz from rock with albums like Bitches Brew, and went on to experiment with his cross-fertilisation of styles. But the term modern jazz came before that, and dealt more with the atonality of artists like Albert Ayler and Cecil Taylor who followed their own muse, although to many it was simply not music. Modern jazz was one of the styles dabbled in by the mysterious Sun Ra and his Orchestra. Sun Ra, who'd played jazz for many years, claimed to be an alien, bringing the music of the spheres to earth.
Curiously, towards the end of the century, jazz enjoyed a rebirth by looking at its past. In the hands of Wynton Marsalis, a New Orleans born trumpeter and jazz scholar, jazz gazed into its past and explored. He's encouraged this, writing works that are sometimes epic, and encouraging younger talent.
Jazz remains very much alive. It may no longer be uniquely American, as most countries have great jazz musicians and their own take on the sound. In 100 years, jazz has become global.
You might also like...