Choosing Your Instrument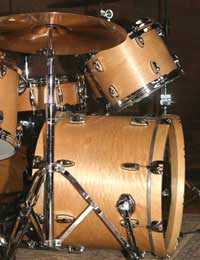 You've decided what instrument you want to play. Now looking around, you're presented with a range of choices, from cheap to far beyond your wallet. How do you decide which one to buy?
The Basics
Obviously, the instrument has to be in working condition. But there are a number of other factors to consider. If it's a second hand instrument, what condition is it in? Is it battered? Has it been repaired?
If it's a string instrument, check the join between the neck and the body very carefully. Because of the tension of the strings, this is the weakest point. Make sure it's firm. If it's been repaired, don't buy it.
With brass and wind instruments, it's important that the valves don't stick when pushed, or in the case of winds, that the pads on the keys are in good shape, as replacing them can be a costly business.
For strings, tuning is a factor. Will the instrument tune easily, and, possibly even more importantly, will it stay in tune? Although violins don't often de-tune in the middle of the piece, guitars can, and it becomes an exercise in frustration to have to stop and re-tune. Frequently it only happens with one string. Tune the instrument, play it for a few minutes, then check the tuning again.
It's also important to check the action. That's the height of the strings off the neck and their tension. Will they push down and make notes easily, or does it require a lot of effort? The strings should be high enough to make a full sound when plucked with no buzzing, but also close enough to be pushed down with very little effort.
Electric Instruments
Guitars, keyboards, basses, and even violins can be bought ready to be amplified. If you're looking for an electric instrument, try it through an amplifier, and check all the different settings to ensure they all work.
With keyboards of any description, play every key to be certain it strikes a note properly, and on a piano to check it's in tune, as having one tuned is expensive.
How Much Should You Pay?
It's a general rule that the more expensive an instrument, the better it will be. There's also a school of thought that an expensive instrument will make you play better, and you'll learn more easily on it.
Perhaps the two factors to consider are exactly what you want from an instrument, and how much you can really afford. If you're just looking to play or your own pleasure at home, then spending a thousand can be an extravagance.
At the same time, it's true that a better quality instrument, with good action, will help your playing. After trying out various instruments, you'll understand that some are better than others. They play more easily and feel more comfortable in your hands.
Buy the best instrument you can afford. For beginners, don't break the bank, though. Use a good, but not great instrument until you reach an intermediate level. It should be perfectly adequate for that. As you improve, if you desire you can buy a better instrument.
Take advice from others who already play, and benefit from their experience.
Renting
Some shops offer the chance to rent violins and brass instruments for children who are beginning to learn at school. This can be a particularly good option for the young, since you have no idea whether they'll continue playing it. If they do show a continuing interest, then a rental instrument is good for learning the basics, after which you can buy them something better to pursue their studies.
You might also like...