Making Progress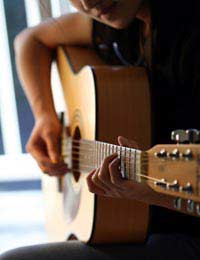 Learning an instrument is a slow, ongoing process, especially in the early stages when you feel like you're all fingers and thumbs. At times, too, it can be very frustrating, trying to learn a new, complicated piece. One of the most important things is to feel that you're moving forwards, not standing still - in other words that you're making progress.
Gauging Progress
From inside it can be hard to tell that you're making progress on an instrument, especially if you're having a bad day, when it can seem as if you're just moving backwards. Exams make ideal benchmarks, but if you don't want to take them, what can you use to establish your learning?
Your teacher can help you by setting out a plan of tuition that moves through certain levels, perhaps including pieces you'd have to play for the graded exams as a way of making you progress.
Recording
In these days when recording at home is so easy, you could record yourself playing pieces you've been set to learn. Do it on the day before you go back for your next lesson, when you should have mastered the piece.
However, this is something you might not want to share with family and friends - going back and hearing older recordings can be embarrassing. But you'll find that as you listen through week by week or month by month, you'll be able to hear the improvement, not only in the playing, but in the mastery of more complex music.
Sheet Music
Keep the music of the pieces your teacher has given you to work on. Go back to them and play them regularly. Not only will that help them stay in your mind, but you'll be able to notice how much easier they become as you learn more. It might not seem like much, but remember how hard they were when you first tried to learn them.
Your Teacher
Your teacher can establish milestones for you too, set pieces to work for and master. They can establish real progress for you, especially if you spend lengths of time - say three months - working on them.
These can be like the weekly pieces you work on, but bigger and harder, really making you work and push yourself. Indeed, that's the beauty of them - they stand as exams, in a way, forcing you to use everything you've learned and maybe even a bit more. Mastering one (and then the next one) becomes a true marker of your progress, and one in which you can take pride, since it will be quite apparent how you've worked, and how far you've come.
Exams
Obviously the graded exams of the Board of the Royal Schools of Music are the best gauge of progress. Your teacher can advise on these, or you can investigate them yourself. The question is whether you want to take them, really. If the idea feels too stressful, don't bother; playing an instrument is meant to be fun, and, as you've seen, there are other ways of checking your progress.
You might also like...