Becoming a Professional Musician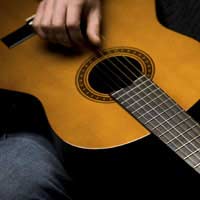 One of the most rewarding things that can happen to a musician is to turn professional to make your entire living from music. But it can also be one of the scariest and most uncertain. For some, those employed by orchestras or ensembles on full-time contracts, it's perfect – however, they're few and far between, with competition extremely stiff for every place and far more disappointed than happy.
For most who decide that music will be their livelihood, it's a much more precarious situation.
Classical Musicians
The technical standard for classical musicians continues to increase, and those who graduate with degrees are almost invariably top-notch players and performers. But quality doesn't equate to a living, and those who can't land full-time jobs with orchestras often resort to teaching to make their money.
In most cases that means giving lessons, either privately or on a contract through schools, to make up the bulk of their paycheque. That's good work, but there's certainly a part it doesn't satisfy. So most will work with chamber groups, semi-professional orchestras or ensembles, simply to have the thrill of playing and to add a little extra to their bank accounts.
Many will see this as a stepping stone to a career as a performer, but in the vast majority of instances that will never happen. For most it will be a case of cobbling together a life from the mix of teaching and performing. Yet, ask them, and most will tell you they're very happy with their lives – and why not, since they're fulfilling their dreams and making a living from music, even if it's not the way they might originally have imagined.
Rock & Jazz Musicians
If it's difficult for classical musicians to make a living, it can be even harder for those playing rock and jazz. In most instances they don't have teaching to fall back on (although some jazz players do give lessons). They're really only able to turn professional when the group they're involved with is popular enough to bring in enough money.
That might sound ideal, but what it usually means in practical terms is long stretches of touring. Be warned, though: For most bands touring doesn't mean luxury hotels and travel in special customised buses. Instead it's everyone cramped together in a van with the equipment, sharing the driving, along with the loading and unloading of the gear. It's a lot of long days and nights, spent in very little comfort, usually with too little money. Also, it's not consistent – very few bands manage to stay on the road for, say, nine months out of the year.
In other words, it's not glamorous, even if you have a record out. Instead you're grinding away as many nights as you can and hoping to break through to the next level.
There are exceptions, of course. Bands on a club circuit can make enough to get by, even if they don't become rich. However, it means playing music that's probably not something they love. But if it can pay the bills, why not?
A few make the leap to become studio musicians, but they're the elite, and it's a hard club to join. Those who do make it earn excellent money, even if they rarely receive credit for their work.
So it is possible to make a living from music. Just don't expect to become wealthy from it – and be very prepared to be adaptable if you're really determined to have it as your livelihood.
You might also like...