Getting a Gig For Your Band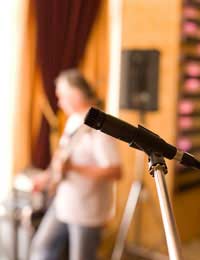 It doesn't matter what type of group you have, it can be jazz rock, indie, or even a classical quartet. But one thing you'll almost certainly want to do after a while is perform before an audience.
However, there can be a dislocation between wanting to do that and finding somewhere willing to let you play. It doesn't matter if you're willing to perform for nothing, it can still be very tough to find a gig. So how do you break in if you're just starting out?
The First Steps
No one knows who you are, what type of music you play, or even whether you're any good. You can try asking someone to take a chance on you with a gig, but in all likelihood it's simply not going to happen.
What you need is a calling card. That doesn't mean a business card (although having one won't hurt), but a complete pack. It should include some information on the group – a short history (if you're just beginning, it won't be long, anyway) and a little background on the members and the music. Make sure you include a photo and, especially, contact information – phone numbers and e-mail. If you already have a web site, display the URL prominently.
That helps. But the most important thing is to have a demo recording. It doesn't need to be as perfect as a CD you'd sell. But it lets a potential booker assess you. Record your very best material, once it's well rehearsed and tight. The whole idea is to sound good, maybe even better than you really are.
That doesn't mean you need to spend a lot of money going into a professional studio. It's easy to record on a laptop these days, with some savvy, imagination and software. Take your time over it, no matter how eager you are. Between three and five tracks should be ample to display your talents – if you can cover the breadth of your music in them, so much the better.Put your package together well. It doesn't have to be extravagant, but it should look professional. Send one to every place where you'd like to play.
Follow Up
If you think you've done all the work by sending out the package, think again. It's only just beginning.
Possibly the most important quality you can develop now is persistence. You need a list of everyone who's received your package. After a couple of weeks go down it and give each one a call. Just check to make sure they received it – you don't have to ask if they've listened yet, since in many cases they simply won't have had time.
Give it another month and ring back again to follow up. Be polite, and say you're following up, and looking for gigs. The chances of receiving offers immediately are slim, so be prepared to keep calling. Not everyone will say yes – in fact you'll hear no far more often – but at some point you'll get a gig somewhere. Be willing to play for free initially (although don't make a habit of it). Don't stop rehearsing and developing new material.
It seems like a lot of work, just to do something you love. But when you do finally get on the stage, it will have been worth every minute.
You might also like...