Additional Learning Aids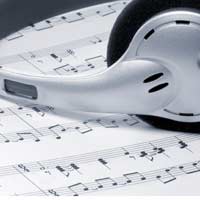 You go to your teacher and at home you practise regularly. You want to improve on your instrument and learn more. Perhaps you want to learn a specific style, but you don't want to go to another teacher. There are a couple of different avenues you can take that may be able to help you.
Books
Books can be a good tool for learning - depending on what you expect from them. It can be something as simple as a book containing a number of new pieces, or one to teach in a new style - say, if you play guitar and want to learn how to play rock guitar - or a chord dictionary. Going back, they were how many people learned the basics of their instruments.
There's such a bewildering variety of books available for every instrument these days, meaning you can learn almost everything your heart desires. However, the problem with most books, unless they come with a CD, is that you're learning in a vacuum - with no one to really guide you.
However, as an introduction to new styles, books can be fantastic. Remember that they have their limits, and you'll probably need to also have your teacher, or someone else, help you translate book knowledge into practical learning.
DVD
As extra learning tools go, there's very little to beat a DVD. Not only do you get instruction, you get to see and hear things being done, which is the best type of tuition. With so many different DVDs available, you can learn anything from classical keyboard to Irish whistle or mandolin.
They have the great advantage over books, although you're still working alone, which means that if you're making mistakes, there's no one to correct them. However, as they're usually played and taught by experts, you have the chance to learn from the best - people you'd never be able to afford to learn from normally.
That said you can't rely completely on DVDs to learn. They can offer a kind of master class or introduction. But they're not an entire course, going one on one. Only a teacher can do that. But they're a big improvement over books as a way of learning.
CD
Many rock musicians came up learning solos from records (in the old days it was possible to slow down LPs). They can still be a valuable resource for learning specific songs or solos, or even find a different take on a classical piece.
Certainly playing along with a CD can be great fun, especially if you just want an enjoyable, relaxed practice session. It builds on what you've learned and expands it. You can sometimes also find tuition CDs, although only for some instruments, with fingerings shown in tablature, a different kind of notation that illustrates on the page where your fingers go (this really only works for plucked string instruments).
Again, this is useful, and you do have the illustration of the CD, but it's also not perfect. There's noone to correct your mistakes on holding the instrument or the way you finger. However, as a basis for working out new songs or styles, it definitely has its uses.
You might also like...