Learning Music Theory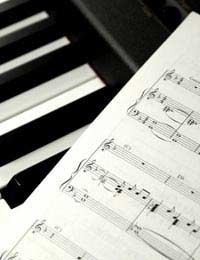 You might not realise it, but from the first time you first pick up an instrument and work from a score, you're learning music theory. From the basics of the treble clef onwards, everything you learn is music theory. Even learning to read music is part of this bigger whole. Think of it as a new language, with its own grammar and syntax.
Why You Need To Learn It
Unless you're always going to play by ear, you'll need to learn to read music. It's a useful, almost a vital skill for musicians. Since music is written in different keys, you'll need to know what notes make up those keys; in C, for example, it's C,D,E,F,G,A,B,C, but in D Major it's D,E,F#,G,A,B,C#, D, and you need to know that if you're going to join in, otherwise you'll make quite a racket.
If you plan to ever write a piece of music, you'll have to have quite a lot of theory under your belt to make different instruments harmonise and to understand the way different inversions, for instance, can completely change the way the chord sounds.
Learning It
You absorb a lot simply by learning an instrument regarding keys, the length of different notes, intervals, and so on. This is part of the backbone of playing, and with this as your base, it's easy to absorb more theory, whether it's from books - there are plenty on the market - or from websites
Like any new language it can seem difficult to learn at first, remembering all the elements involved. Don't worry about it - like any language, you'll make mistakes as you learn, but in time you'll remember it all.
You might wonder how much music theory you need to learn. You can stop at what you need to play your instrument, of course, and you'll be fine. Or you could master all the intricacies of the language completely. That takes time and effort, of course, especially if you're going all the way to Grade 8 theory; however, unless you plan on plenty of serious composing, it's unlikely you'll need to go quite that far.
One of the best things about music theory is that you can try out each new concept on your instrument as you learn it, to illustrate the idea. It's far more concrete than simply reading a book.
Applying It
Obviously, as said, music theory applies from the time you begin to play. But the more you learn, the more you can use. If you're playing with others informally, for instance, you might decide to put in a harmony line to the melody. The knowledge that a third or a fifth makes a good harmony allows you to do that.
That's one simple example; others abound. Everything you learn will apply at some point. If you're serious about learning an instrument and want to be able to do as much as possible with it, then continuing theory is a good idea. However, for most people, studying to Grade 5 of the Board exams will take you as far as you need to go.
You might also like...