The Great Composers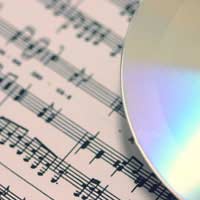 For anyone wanting to learning composition or intending to become a conductor, studying the great masters of music is vital. Not only is it a good way to absorb the history of music, but also to understand the essence of composition and effect in a way straightforward lessons can never achieve.
Listening, and studying the scores (you can borrow music scores from many libraries), is part of a general musical grounding, a real education. It's something music schools offer, but you can do it equally well at home, and it will have the added advantage of sharpening your sight-reading skills, as well as making you aware of the range of different instruments.Most of the great composers wrote works that spanned the range from grand, full symphonies to more intimate chamber works and sonatas. They developed their craft over a lifetime – although they all started with genius – and you can understand the way they listened and learned if you hear study their works.
What To Study
Study everything you can, but always with the score in front of you, following along with your finger. Don't attempt it before you have a good level of sight reading, or you'll quickly end up lost. Develop that skill and you'll always be able to keep your place. Begin with the smaller works where there are fewer instruments (string quartets and quintets, for instance) and work up from there, culminating in the symphonies, which are canvases as grand as any large painting.
Realistically, it's impossible to study every work by every great composer; there are simply too many of them. But you do need a representative sample from most of them to gain an understanding of their styles, and what they used to achieve the effect of their music.
How To Study
Start by listening to a work; not as background, but listen intently, taking in as much as you possibly can. The second time through, have the score in front of you and follow it all. Take the time to listen to sections several times if necessary until you can hear and see exactly how the composer achieved what he did and arranged the music in whatever fashion he used, whether it's just a string quartet or a massive double orchestra.
After this, go through the score, recreating the music in your head. If there's a movement you can't follow, play it and read along once more on the score. It all takes time, but it's well invested in your musical education as you're learning from the greatest people in the world of music. Even if you don't plan on composing classical works, you'll still emerge with a greater understanding of melody and arrangement, skills that are useful no matter what type of music your write.
Don't simply study one type of music, be it symphonies, concertos, or any single area. You'll learn many useful things, but you'll gain much more by studying all the different forms, and all the different eras from Renaissance music onwards through classical, romantic and modern. Each one builds on what's gone before, but with the innovations of remarkable minds that hear and imagine things that others can't.
What You Can Learn
By listening closely and reading – and thinking about – the scores of works by the great composers, you'll be able to learn much more than you could in any straightforward compositional lesson. In part this is because these people broke the standard rules of the time where necessary to achieve the sounds they heard inside (although the rules would change afterwards to incorporate what they'd done).
You'll also understand the development of music, something vital for any serious student. You'll be able to understand how the truly great composers shaped and altered musical forms and made the sonata, for instance, into something majestic and changed the whole conception of the concerto, allowing it to become a tour de force for a soloist.
After studying one of the composers for a while, try writing a short piece in that style. It's an academic exercise, but you'll be putting what you've learned into practice and it will help you develop as a composer, understanding how to develop a theme and work in variations, all things you'll be able to use in your original works.
Remember, you're part of a continuum. What you use in your music comes from you, but there's also a long history behind it. Knowing that history will make you a better composer. Getting to grips with the heart of it might help make you a great one.
You might also like...