The History of Folk Music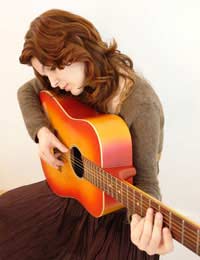 Folk music is, as the name implies, the music of the people. For hundreds of years people have made songs of stories and great ballads. Sometimes they've been adapted from published broadside ballads, but many just appeared and were shaped slowly. Equally, some folk tunes were adapted from popular dances, and others simply developed.
The First Folk Revival
By the end of the 19th century, as Britain's rural population had largely moved to the cities, many folk traditions had either been lost or were in danger of disappearing. Professor Francis Child, an American, had collected and published five volumes of British ballads, but few had paid attention to the tunes and other songs.
That changed with Cecil Sharp. Beginning in 1899, he toured the country collecting folk songs, tunes and dances (he even went to America in 1915) and helped found the English Folk Song and Dance society, whose aim was to preserve the traditions. He was far from being the only collector. During the first two decades of the 20th century many went out into the country to notate or record songs on wax cylinders. But the death toll of the First World War helped kill off any surge of mass interest.
The Second Folk Revival
It wasn't until the late 1950s, when Britain had fully recovered from the deprivations of World War II, that the second folk revival began. The prime mover was Ewan MacColl, who was actually born James Miller in Lancashire. An actor with a love of music, he began recording in 1950, and also collected songs. He was a gifted songwriter, penning not only "Dirty Old Town," but also "The First Time Ever I Saw Your Face." Along with partner Peggy Seeger (of the American musical Seeger family) he pushed a very English musical identity, and gathered like minds around him.
All over the country young people were rediscovering folk music, and there was a boom in folk clubs where people like singer Louis Killen and singer/guitarist Martin Carthy performed. But with the riser of the Beatles, general interest in folk halted.
Electric Folk
Fairport Convention was a rock band with folk leanings, especially after singer Sandy Denny joined. But the impetus to mix folk and rock came from bassist Ashley Hutchings, who investigated old songs. Their 1969 album Liege and Lief was a landmark, the first English folk-rock album, and it excited a new generation about folk music. Hutchings left to form Steeleye Span, who ploughed a similar furrow.
Others followed, like Trees, and folk music enjoyed a small popularity. Into the 1980s groups continued to mix folk music and electric instruments. At the same time, the artists of the 1950s folk revival had continued playing and learning and become lauded on the folk circuit.
The 1990s
The 1990s brought renewed interest in folk music, particularly among young people, as the children of folk revivalists came of age, led by fiddler and singer Eliza Carthy. But there were plenty of others, like Kate Rusby, the Lakeman brothers and more who'd grown up going to folk festivals and learned to play to a high standard.
The growth of the folk festivals helped too, giving a large summer circuit for performers. Suddenly folk music, especially traditional music, found a sustained popularity. Duos like Spiers and Boden explore that side, but then add others to form Bellowhead, a folk big band. Others have mixed folk and electronics, folks with newer styles of rock - it's a period where anything goes. A century after the first folk revival, the music has truly come of age.
You might also like...
Folk music, by its name, is music of the people. It's always been there, people have always made songs and tunes and they've been passed on orally. It's only in the last couple of centuries that British folk music has been 'collected' and put into books. What we consider folk is probably only a tiny amount of what's been around over the centuries, and not necessarily a representative history at all.
Chris
- 26-Sep-12 @ 11:18 AM
You really should have made the point that folk music - in the general sense - keeps going from strength to strength. No real folkie would accept it, but in the general press people like Laura Marling and Mumford & Son are classed as folk, which has meant greater acceptance of the music. Deeper down, people like Imagined Village are helping to create a new kind of folk music that builds on the tradition. Like everything good, folk keeps evolving.
folkie1
- 30-May-12 @ 1:42 PM
When you say "he toured the country" do you mean england ?
kittykat05
- 19-Feb-12 @ 3:35 PM