The History of Opera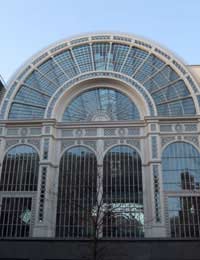 Opera is a hybrid form, a mix of music and theatre, where the performers have to be both actors and singers. Over the centuries it's developed into a complete art form that has avid fans and critics, and a wealth of lovely music.
How It Began
Opera began in the Italian city-state of Florence during the Renaissance of the late 16th century. There was no sense of creating something new; instead a group of nobles were simply trying to recreate the heyday of classical Greek theatre. The first operas staged were the old Greek plays; with some music added (the original dramas had included music). It was a short step from reciting the plays with music to singing, and not long before composers began writing music for the productions.
According to records, the first original opera was called Dafne, and was produced at the end of the 1500s. But it was Montiverdi, one of the great opera composers, who expanded the form, adding the aria, a song where a performer could not only show technique, but also emotion, giving depth to the story of each opera. Within just a few years, other composers had added to the form with chorus roles and instrumental interludes, making it a complete blend of words and music.
In many ways, opera was the pop music of its day, with arias the hit songs. Its popularity spread across Europe like wildfire (the first English opera was Purcell's Dido and Aeneas, premiered in 1689), and soon cities had purpose-built opera houses (the first was in Venice). For many years opera was viewed as an Italian form, which led to composers writing the librettos (or lyrics) of their operas in Italian.
The main stars of opera weren't yet the female sopranos and male tenors, who would in time take the lead roles, and become celebrities. Instead, many of the main roles and arias were the province of castratos, and each aria was played twice - making opera a lengthy proposition.
The Development of Opera
It was Christoph Gluck, a German composer, who changed the face of opera, and made it more like the form we know today. With Orfeo et Eurydice, staged in 1762 in Vienna, he revolutionised the form, emphasising the drama of the piece and cutting the fat.
It was a great success, and Gluck composed other operas that stuck to the same focus, influencing those who followed him, like Mozart, whose Marriage of Figaro was one of the most popular operas of its day. Combing humour with its tale, and some memorable tunes, it set the standard for opera, which he tried to outdo with Cosi Fan Tutti and The Magic Flute.
In the 19th century different strands of opera emerged - the Italian, German, French and even Spanish. Russia even followed suit. France took it to epic heights with grand opera that included dance interludes with a full ballet company and productions that lasted four to five hours. Composers like Verdi and Rossini worked in this style, and it was certainly an influence of the work of Wagner, whose Ring Cycle, a retelling of Teutonic myth, took opera to epic, extravagant proportions.
Modern Opera
Wagner was a hard act to follow, although a few tried. But it was apparent that opera couldn't continue in that direction. It needed new ideas. They came in the 20th century with Schoenberg and Berg, who brought new, avant-garde musical techniques to bear on the form. In their wake came Britten, Henze and Shostakovich, who didn't go quite as far musically, but still influenced opera.
One notable development was using a smaller orchestra, a reaction to economic circumstances. But operas continue to be written, with American composers like John Adams and Phillip Glass two of the leading lights of the form.
Many of the great opera singers have become household names - people like Placido Domingo, Luciano Pavarotti and Beverly Sills, and their frequent television appearances have helped return opera to the kind of mass popularity in enjoyed in the 1700s.
You might also like...
I love music
Jane
- 7-Dec-23 @ 10:58 PM
Perhaps the biggest revolution in opera has been the inclusion of surtitles, displayed above the stage, for audiences to be able to understand what's sung. As most of us don't speak Italian (or German or whatever), the libretto has been meaningless. Having a translation visible can make all the difference, and certainly makes opera more enjoyable and accessible. You can focus on the music and singers instead of wondering what they're singing about.
William T
- 30-Jun-12 @ 10:09 AM