Folk Music Degree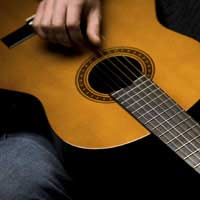 Although it's existed in several Scandinavian countries (Finland, Sweden and Denmark) for some time, it's only recently that Britain has adopted the idea of students obtaining a degree in folk and traditional music.
A number of universities offer degrees in popular music, but only Newcastle University has the folk degree programme. Taught by experienced professional folk musicians, many of whom are based in the area, as well as academics, it's pioneering and has already produced students who've won awards, recorded CDs and toured. Jointly run with the charity Folkworks, it gives students a thorough grounding not only in playing and composition, but also puts folk music in its greater cultural context. There is also the possibility of studying for a year at one of the Nordic universities, or combining the degree with other programmes at Newcastle.
The Programme
There are four stages to the programme. In the first two, which are an introduction and a bit more, students split their time. They acquire performance skills, working with tutors and as part of ensembles both at the university and at the Sage in Gateshead to develop technique and become used to playing with others in different ensembles. Additionally, they learn about the history of folk music in Britain and Ireland, its social implications, as well as general music history and music skills, including music technology, which is quite vital in these days of home recording.
Completing the first two stages qualifies a student to receive a Diploma in Folk and Traditional Music.
However, that's only half the story. The remaining two stages go into greater depth, with more emphasis on performance work, and courses in ethnomusicology that helps students learn more about the folk music of other parts of the world. Within that there are several study options that can relate fairly directly to British folk music.
In the final stage students are expected to undertake one specialist study, then demonstrate their knowledge in one of several ways (recital, dissertation, etc.).
The Pros and Cons of a Degree
Is there a big advantage in taking a degree in folk music? The answer, these days at least, is yes. Not only do students have to demonstrate a high level of ability simply to be accepted in the programme, but they're surrounded by like-minded musicians of similar talent, from different areas of the UK, helping to expose them to many different regional traditions. That alone offers an excellent grounding for young players.
On top of that, both performance and academic skills are finely honed, and technical skills on instruments tend to soar, which is vital, given the overall skill level of young performers these days. Finally, it gives students the chance to network with professionals who make their living as musicians, and who have an understanding of the problems involved.
On the down side, it's far from the traditional way to learn folk music, which is simply to listen and play, taking in everything from those who've gone before. Folk music, after all, is music of the people - should it even be an academic subject?
Given the way the business is these days - and folk music is a business, like anything else in music - any advantage a musician can have should be taken.
You might also like...
Thanks for the sharing such a useful information. I like it.
tom
- 24-Sep-12 @ 6:41 AM
There are those, quite a number of them, who feel that doing is preferable to sitting in a classroom, and some of them have been quite successful. However, for many, especially those who haven't grown up in families suffused by folk music, it can bring a depth of education it would be hard to find elsewhere.
Hannah
- 19-Sep-12 @ 2:31 PM