What Qualifications Should a Teacher Have?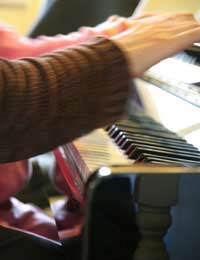 When you're looking for a music teacher, one thing you want to know is how qualified they are to teach you. Many will be professional musicians who use teaching as a fairly steady side income; other will make their living solely by teaching. Their credentials will range from nothing to a wall full of certificates. In many ways, it doesn't matter at all, as long as they can teach. But what do those qualifications mean?
Credibility
Anyone who's going to teach has to be an extremely good instrumentalist, with a strong background in performance. For most, that means experience with an orchestra or similar ensemble.
However, for most to reach that level, they'll also have some kind of academic background, generally it a degree in music from university or music college. But there are also performance degrees, music course certificates (at an advanced level) and even teaching degrees.
Music Degrees
To even get into university for a music degree course, a musician will already have obtained Grade 6 (out of 8) on his instrument, showing a strong technical background, along with A levels. Then they'll have gone through a three year course to receive a Bachelor of Music degree.
Music Colleges
Unlike universities, music colleges place their emphasis on instrumental skills. Students often emerge as qualified teachers, with Qualified Teacher Status (QTS), enabling them to teach music in schools.
Performance Degree
Institutions like the Guildhall School of Music and Drama give degrees, but they specialise in performance, rather than on the academic end. In most cases graduates who want to teach - at least those who want to teach in schools - will have to obtain a Postgraduate Certificate of Education (PGCE).
What These Mean
These qualifications mean they've been taught how to teach, in addition to being experienced instrumentalists, so they should be able to handle your needs. However, don't take certificates as the be all and end all. They can only tell you so much.
What Really Counts
A teacher obviously needs a high level of technical ability on his instrument. But perhaps the most important things are a passion for music (and the instrument) and a way to communicate that. Enthusiasm is infectious, and the more you feel for the instrument, the faster you'll learn and progress.
That said, someone who's been taught the best methods of teaching will be able to do his job most effectively, as long as the other factors are in place. Remember, you're employing this person to do a job, and the better it's done, the happier everyone will be. Don't settle for someone highly qualified but jaded.
Ask about qualifications (and any serious instrumentalist should have gone all the way to Grade 8). They'll tell you how serious the teacher was about learning. Use it as part of your assessment of prospective teachers. But don't be overawed by pieces of paper; they don't count as much as many think they do.
School Music Teachers
Teachers of music in schools will either have come from university or music college and have those qualifications, as well as either a QTS or PGCE.
You might also like...
All the qualifications in the world and all the ability possible on the instrument don't matterunless the person can really teach and communicate.When you're looking for someone that has to be the main thing. Of course they need to be more than competent, but they need that extra quality, too.
mum
- 26-Sep-12 @ 8:54 AM
The above information is not entirely accurate. To be able to do a music degree at University you have to have grade 8 in your first instrument (not grade 6 as stated above) and grade 6 or above in a second instrument, as well as A levels.
Helaina
- 6-Dec-11 @ 9:19 PM
This site is well solid.
bakerbeats
- 13-May-11 @ 2:36 PM