Finding Sheet Music & Music Books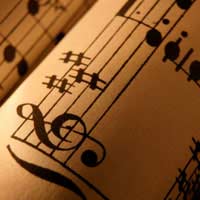 Now you play an instrument you need some music to play. Just as you might buy and keep books to build up a library, you need to acquire a library of sheet music for your instrument, pieces that haven't been assigned by your teacher, pieces you can play for fun and experience.
Shops
These days it's getting harder and harder to find sheet music and music books in shops. People believe there's no market for it, but that's simply not true. To be fair, not as many people play as they did 50 years ago, but it's still popular.
Some instrument shops will have sheet music and music books, but you might have to search a bit. Some will order in specific pieces for you – but that means knowing what you want. It's worthwhile developing a relationship with a friendly shop owner who might suggest pieces and order them for you. Talk to other musicians and you'll be able to learn about places that stock sheet music.
eBay
eBay can be a boon for anyone searching for sheet music. All too often it's old music that a family's selling off cheaply, usually in lots. You might get quite a bit you don't want, but you can still find plenty worthwhile.
Keep your eyes open for good sales. But, as with anything on eBay, don't let yourself get carried away and pay over the odds.
Online
There are plenty of web sites selling sheet music, often with a much wider range than you'll find in any shop. Musicroom.com is a good example and there are a number of others, such as Music Exchange. If you're looking for specific pieces, these might be the best place to look, since you should be able to order quickly and receive fast delivery.
Other Sources
Some of the best sources for sheet music might be the closest. Your music teacher buys his somewhere – ask him. He might even be able to suggest pieces you might enjoy (after all, he knows your taste and knows more about music for your instrument than you do), and he'll have ways to obtain them easily.
Additionally, talk to his other students. It's almost certain that they'll have pieces they've found and perhaps you can swap with each other. They may have found good places to buy music too, so don't be afraid to ask.
You might get lucky and find sheet music at car boot sales, but it won't be consistent and there's no guarantee it'll be anything you can use. Still, if you're in the right mood, the search can be fun! Junk shops can be especially fertile, as can charity shops, since they're repositories for items from homes where people have deceased. Once again, there can be no guarantee on quality, but you should at least find a few interesting items.
Finally, ask old relatives and ask them to ask friends. Once more, you can't guarantee what you'll receive, but you might well find it's a treasure trove and possibly a pile of sheet music.
You might also like...