Working With The Engineer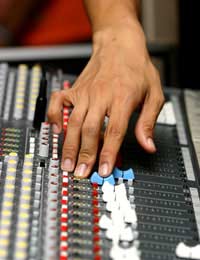 You've selected a studio, agreed terms, and now you're in there to record. How do you work with the engineer?
Tell Him What You Want
By the time you go into the studio you should have your material fully arranged and rehearsed. You know how you want the pieces to sound, and what you want to achieve with the recording (i.e., is it a demo to send out to obtain bookings, or is to be a finished CD, etc.). Tell the engineer. He can work with you to obtain the results you want. And if the sound on the tracks isn't what you envision, don't be afraid to say so - after all, you're paying for it!
Act professionally. Remember, in the studio time is money - in this case, your money - so use it wisely. Messing around only wastes time. Remain focussed on what you want to do. Leave the alcohol for a celebration afterwards.
Be prepared to spend a lot of time sitting around. It's frustrating, but a necessary part of the process. Setting up microphones and obtaining the sound can be a painstaking process, and you should be aware of it. All being well the end product will be worthwhile.
Listen To The Engineer
The engineer knows his studio (there's a good chance he built it and owns it!). He knows what works best and how to make things work. His ideas might run counter to what you know, but listen to him; he should know what he's doing if he's worth his salt.
As someone objective, the engineer can offer suggestions. Don't dismiss them out of hand. An outside opinion might help you.
The recording process might seem convoluted, but if you've chosen well, all will come clear in the end. An engineer should have very good ears, and might well pick out faults in the performance that you haven't heard. If he suggests another take, do another take; there's probably a good reason for it.
The Mix
When it comes to the mixing process, the engineer is king. Obviously you'll have the final say, but he can make a great deal of difference, putting together the best parts of tracks from different tracks into one seamless performance.
It's quite possible you'll want effects like delay on different instruments in different parts of the song. Tell the engineer as you go through the mix. He can also alter the entire reverb of the piece with anything from very subtle to the depth of a large concert hall. Again, be willing to listen to his suggestions. The odds are that he's worked with many different people in similar situations to you, and can bring that experience to bear.
The Finished Product
When you leave with your CD, the engineer wants you to be happy. After all, he hopes you'll return for your next project and that you'll recommend the studio to others; it's his bread and butter. The only way he can know for certain is if you've told him what you want - and let him know when he gets there (or if he doesn't).
The right engineer who knows his equipment can make a huge difference to your recording. Work with him, tell him - and listen to his ideas - and your session will be a success.
You might also like...