How To Play The Harmonica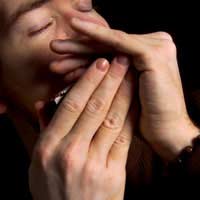 There are plenty of pluses about playing the harmonica (or mouth organ or mouth harp – it goes by several different names). It's very small and portable, you only have to put it in your pocket and you have an instrument you can carry with you. It's one of the easiest instruments to learn, although that means just the basics; learning to play it properly, as with anything else, takes years of practice.
Also it works well whether you're accompanying others or playing alone and it's very adaptable to different styles – the harmonica has long featured in blues, folk, country, and even jazz.
The Instrument
When you're starting out on the harmonica, the best thing to do is to keep it as simple as possible. Don't go buying a big chromatic instrument. Instead, choose a small 10-hole diatonic one, in a key such as C or A.
Hold it in your right hand, thumb under the instrument, first finger on top, so the lower notes are at the left-hand side of the instrument. As you experiment you'll discover that each hole has two different notes, depending on whether you suck or blow.
Something that will become immediately apparent is that you'll need to work on your breathing to work the instrument and hold notes. Try to pull your breath from your diaphragm rather than from your chest.
Single Notes
At first you'll wonder how players ever manage to pick out single notes on the harmonica. It takes practice, and a bit of technique, and if you're going to learn the instrument, you have to be willing to put in a little time. It's quick (especially when compared to other instruments), but it still doesn't happen overnight.
To learn to blow a single note, purse your lips as if you were going to kiss, then relax your lips a little. Try both blowing and sucking – or drawing, as players call it – on a single hole. It'll take a while, but you'll get there, and once you've achieved that, you can move from hole to hole. Don't be afraid to use the tip of your tongue to pick out the holes at first.
More advanced players can manage chords, but don't even think about that for now. Focus on simply playing single notes and moving from one to another, blowing and drawing smoothly to create a melody.
Straight Harmonica & Cross Harmonica
It might sound strange, but there are actually two different ways to use a harmonica with other instruments. Straight harmonica (or straight harp) means you're playing in the same key. So if your harmonica is in C, then the song is in C, and you'll be playing along with the melody.
Cross harp is something you find mostly in blues. Here the harmonica is a fourth higher than the key of the song. So if you're playing a harmonica in C, the song would be in G, which allows for better, freer improvisation. What you'll need to do if find the root note – the G, as well as the fourth (C) and the fifth (D). With those you can then work around the melody.
More Advanced
As you listen to other harmonica players, you'll hear than they seem to be able to bend notes and add other effects. You can sound as if you're bending a note by moving your tongue in your mouth. Again, you'll need to experiment and work at it, but it's not too difficult. Also, using your hands around the harmonica can create interesting effects. That percussive sound is trickier, since it involves tapping your tongue against the back of your front teeth, which can take a lot of practice.
As to practice, do it whenever you can – if you're stuck in traffic, perhaps, or when you have a few quiet minutes. After a while you'll notice a real improvement and you'll understand that you've become a harmonica player!
You might also like...