How to Be a DJ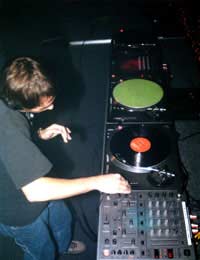 To be a DJ, you not only have to love music, you have to know music, a wide range of music and have the kind of ear for how it goes together. More than that, you have to have a huge collection of discs, preferably on vinyl, ready to entertain the crowds.
What a DJ Does
There's more to being a DJ than just playing records. You have to be able to cross fade from one disc to another, judge the mood of the audience and play the music in a smooth flow to life the crowd up and bring them down. It's both art and science, which involves skill of the fingers and the mind.
The Equipment
For a start, you need two turntables, known as "decks." Not just the type you'd play vinyl on at home. These are specialist devices which allow you not to perform the "scratching" so beloved on hip-hop, but also move a record backwards to cue up a break. You'll need two of them to move from one to another.
To make that move smooth, you'll also need a mixer, allowing you to fade from one record to the other smoothly. You'll also need a CD player, since so much music is on CD, and like the turntables it should feed into the mixer. The more ambitious (and financially flush) can add a sampler and perhaps a keyboard, but that's for the advanced classes.
You'll have to love scouring record and charity shops for vinyl, be it great or cheesy, and have the imagination to use it in your set.
How It Works
Yes, as a DJ you are playing records, but your first hurdle is to be able to segue smoothly from one record to the next. The trick, at least to help you, is to pick tracks with a very similar bpm (beats per minute). As the first plays, cue up the second on the other turntable, using to mixer to listen and find your starting point. From there you have to practice starting the second disc to synchronise with the first, using the faders on the mixer to create a seamless flow between the two.
The chances are that it'll take more than a few attempts until you succeed, and even more until you can do it every time. Once you've done it, try it with other records, then build up to three, then four records. When you've mastered that, try fading from CD to vinyl and the reverse.
The Feel
Having mastered the mechanics, now you need to think about your choice of tunes. What do you want to play? Garage? Two Step? Grime? Or perhaps you're more comfortable with the rare grooves of old soul.
As a few nights in the clubs will tell you, most DJs specialise in a particular style. Others mix it up a little. The beauty of it is that you can mix it up - as long as you keep the crowd happy and dancing. You have to pace your set, start at mid-pace, then build up gradually, slow down to give them a break, before building up again to a climax. Sets can range from 30 minutes to four hours, depending on many factors.
To put a set together, you need to know your music incredibly well, and spend many hours discovering what tracks work well together, how to increase the energy and take it down.
For all that it looks easy enough, being a DJ can be as difficult and need the same dexterity as playing an instrument. Indeed, if you ever become good enough, you could be a virtuoso of the decks.
You might also like...