Rehearsing With Your Band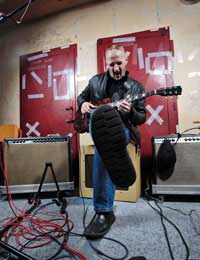 It might seem obvious, but once you've assembled your group, you need material, whether you write it yourself or perform cover versions of songs by others. To do that, and prepare yourself for public performance (or simply to play for pleasure) you need to rehearse. But the actual mechanics of rehearsing can be a little more complex than they seem on the surface.
Where to Rehearse
This is perhaps the biggest question of all, and a lot depends on the type of group you have. A string quartet or acoustic group, for example, can probably rehearse in the living room of one of the members without overly upsetting the neighbours. The sound is quiet and ordered.
Where more volume is concerned, finding a place becomes a lot more difficult. Although there's a rock tradition of "garage bands," any band going through its paces in the typical suburban garage is going to draw plenty of complaints and probably a visit from the police. The same is very likely true for a jazz group, too.
In urban areas there are buildings that specialise in being rehearsal rooms. They can range from the bare bones (an empty room with power points where you haul your gear in and out every time) to the luxurious (secure rooms where you can leave your equipment set up, with a P.A. system and monitors so you can hear yourselves easily), and the prices for using them vary accordingly. What you get depends not only on what's available, but also how much you're willing to spend. But remember, the time you spend carrying, assembling (and tearing down) equipment eats into your rehearsal time.
How to Rehearse
Let's say you have a number of songs (a set) that you want to rehearse for a show. The simplest way is to establish the order in which you'll play them, and then stick with that (known as a "set list"). Rehearse them in that order, by all means.
With material you're just beginning to learn, it can take a while, as everyone assembles their parts, and you try to mesh them all together. Even when you know the songs well, there'll be mistakes - which are exactly what rehearsals are for! They're a chance to try things, and to fail. Never expect rehearsals to be perfect.
The first thing is to set your levels so everyone can hear each other. You might have a P.A., or public address system to use for microphones, although most groups don't possess one. Volume is important. It needs to be loud enough to pack some punch, but not so loud that hearing another instrument or the voice becomes impossible. That takes trial and error, and plenty of give and take on the part of band members. In the typical rehearsal space there's no need to amplify the drums, for example.
How Often to Rehearse
Depending on how serious you are, rehearsing once a week is probably adequate, especially if the members have plenty of other commitments. It allows for continuity, without the members becoming rusty and forgetful in between sessions.
Sessions should be at least two hours. In the early stages don't expect to run through your entire set in that time. Expect instead to play each song several times. That might seem tedious, but in truth it's good. Not only will it help everyone remember the piece and their individual parts, it will also allow everything to mesh, and the arrangement to slot completely into place. During rehearsals, members will want to change parts, and make suggestions. Try them all, see what works and what doesn't.
If you have the time, or if there's a performance rapidly approaching, rehearsing twice a week is a good option, to settle everything, and make sure all the changes are smooth. In most instances, more frequent rehearsals aren't to anyone's advantage.
Things to Remember:
Rehearsals aren't a substitute for practice. If the only playing you do is at rehearsal, your skills will deteriorate.
Don't expect perfection from rehearsals.
Rehearsals are fun, but also a lot of work. Be prepared to give 100% every time!
Approach rehearsals with goals, e.g., learn a new piece, and polish the set.
With any group or ensemble, rehearsals are a vital part of the process, bringing members and music together.
You might also like...