Group Lessons: Suzuki Method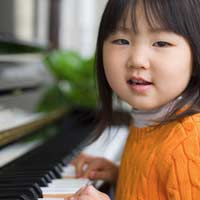 It is possible to learn in a group situation, at least for a while. Perhaps the most successful way of doing this has been the Suzuki Method, which had been operating for about 50 years now. It was, and still is, somewhat controversial, but it's offered a revolution in teaching.
How It Works
With the Suzuki Method, children start very young, generally at the age of three or four, but sometimes as young as two. To many, that's simply too young. However, it has to be said that it works, and many different instruments are taught by these means, initially by ear.
It demands a lot of parental involvement. Before any lessons begin, the parents play the music the child will be learning at home, and also begin learning the instrument. That way the child is exposed to the music, and the idea of the instrument, so it doesn't seem too alien.
The lessons are in groups, beginning very, very simply, and moving in gradual baby steps so the child can feel a sense of accomplishment. However, most of the teaching goes on at home, with the parent who's a step or two ahead of the child on the instrument, teaching and encouraging them. That means a lot of time and effort on your part.
Eventually, after some time with these lessons, Suzuki moves to a more traditional teacher-pupil method. The emphasis is more on the initial stages, which have been proven to work, where pupils learn in groups - it's meant to be akin to learning language.
The Problems
Although many children around the world have learned to play through the Suzuki Method, and it's become an accepted way of learning an instrument, that doesn't mean it doesn't have its critics and its problems.
It's perhaps even more of a commitment for the parent then the child. Not only do they have to learn the instrument, too, they have to help with the teaching and create an atmosphere where the child wants to learn. That can be particularly difficult with very young children who have short attention spans.
The child's age is another factor. Some argue that Suzuki starts the children too young (although, it should be noted that they use scaled-down instruments), before they can really understand and fully enjoy what they're doing. The counter to this is to make it seem like play, which does often seem to work.
The Advantages
There can be an advantage in starting children so young, especially as the emphasis is on playing by ear initially, rather than reading music. Playing quickly becomes second nature, a part of everyday life. And, being young, it's a language they absorb very quickly.
However, that doesn't mean they'll become better players than those taught in the traditional manner - that's simply a matter of ability. But the grounding they receive is deeply ingrained, and as they begin playing by ear, it means they're actually more able to play freely with others for pleasure.
Obviously, it's your choice whether to have your child learn this way or not. However, it's probably best to talk to a few parents who've tried it before making any commitment, to fully understand what you're getting into.
You might also like...
Hello, this isn't true. Children start with individual lessons as well as having group lessons. Group lessons are used to reinforce concepts of playing which are taught in their individual lesson.
Jinabella
- 4-Apr-17 @ 10:47 AM