Songwriting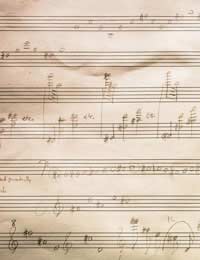 Most of us have heard songs on the radio and thought we could write something better. Certainly most of us have at least one song in us. But getting it from your head onto paper in a form other people might understand and love can be a tricky business.
The Form of the Song
One thing people tend to remember about a song is its chorus. It can be rousing or moving, but it must be memorable. However, it's only one part of the song's form. There are many forms a song can take, but it generally needs verses and a chorus. Traditionally, a pop song would have verse-chorus-verse-chorus-middle section or bridge-verse-chorus. But it can also be verse-chorus-verse-chorus-verse-chorus.
The Basics of a Song
A song consists of two things - words and melody. Neither necessarily comes first. An idea might pop into your head, or possibly a tune. You might even get an entire song! Songwriting is both an art and a craft, a mix of sweat and inspiration.
It's easiest if you play an instrument, and can work out a melody line and a sequence of chords. But it's not vital. Some songwriters are just singers. The important thing is that the words and melody go well together. All too often the simplest melodies are best, and certainly the most memorable.
With no set place to start, it all depends on your idea. Write it down, or if it's a tune, or even a fragment of a tune, record it so you have it right there.
Revisit your ideas regularly. You might well find that they team with other ideas you have, or that working on them might inspire you. Don't be worried if it takes weeks or even months to build a song. It's the final product that matters.
A song can tell a story in its verses, or it can simply paint a picture. The words can even sometimes be quite nonsensical. Songs develop their own logic. As long as they stick in the mind, the rest doesn't matter.
The Chorus
Think of the songs you love, and their choruses. They tend to be the part you recall first. They have to be powerful, and stick to the brain like Velcro. Take time over your chorus. Experiment with ideas, and make sure it resolves, or finishes, exactly the way you want. Without that, it can seem incomplete and missing a vital component.
The Bridge
Often, the bridge, or middle section, can be the trickiest part of the song. It seems unrelated to the rest, but in fact it offers a change up and a link. Frequently, the chords that make up the melody of the bridge are simply those of the verse, or the chorus, in a different order.
The Verse
The verse is where you tell your story, developing it. Each verse should lead on to the next. Melodically it can be one idea, repeated over four or eight lines, or it can be two separate ideas. Either way, it should build the tension of the melody, and release it into the chorus, emphasising the latter's importance. The listener probably won't even realise it's happening, but if you listen to the best songs, you'll hear how it works.
There's no set number of verses. Everything with the song form is flexible. The secret is for it to feel right, and as the writer, you're the best judge of that.
Completing a Song
When you think your song is complete, put it aside for at least a week, or longer if possible, When you return to it, you can judge it with a more objective mind. Look at it, listen to it, and don't be afraid to criticise your work. Polish it a little. Tear it apart if you're not satisfied. When you're finally happy with it, play it to others - songs are meant to be shared.
You might also like...