Finding a Gig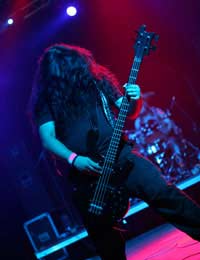 In most cases, once you, or your ensemble, have assembled a repertoire of material, you'll want others to hear it. But how do you go about finding a gig?
The Basics
The most obvious advice is don't try and land a show at a place that doesn't put on your type of music. A metal band aiming for a folk club gig, for example, is a recipe for rejection - and you'll find enough of that without looking for it.
You will need a recording of yourselves. These days most bookers insist on a CD, as they're so easy and cheap to make. If you have one, fine. If not, make one - it can even be a live recording burned onto a CD-R, as long as the sound quality is good (and you're pleased with the performance).
Don't expect your first gig to be at the top of the bill. Everyone starts small. The chances are you'll receive a brief opening slot for a bigger name (or possibly not such a big name), and slowly work your way up from there. Think of it as an apprenticeship.
Call the clubs you'd like to play and find out the name of the booker. You can get an address to send you demo, but it's even better if you go in person when he'll be there.Give your CD to the booker - most clubs tend to employ a booker, although sometimes one will cover several clubs. He's a busy man, and receives a lot of music. Make sure the CD has all your contact information, and web site (if you have one - if you don't already, make one!). If you haven't heard from him in three weeks, call. Be polite. He might not have had chance to listen to your CD. Be persistent - call back a fortnight later. Keep the calls short and professional.
If he doesn't like what he hears, accept that. Not everyone is going to be a fan, and there are other clubs around, especially if you live in a city. Don't take the rejection personally; you're going to come across it often in your career, so acquire a thick skin early.
Be persistent. Don't quit at the first sign of failure. You believe in your music, so keep going. Sooner or later someone will book you. But initially, be prepared to play for the experience rather than the fee, since the chances are that you'll receive a pittance at most.
Before The Gig
Arrive at the time you're given for "load-in." It might seem apparent, but make sure you have everything you need. Before you leave home or your rehearsal space, do an "idiot check" - write a list of everything you need to bring if need be.
There should be spare strings for all string instruments (at least two sets; they have a habit of breaking at the most inopportune times), and plenty of drumsticks if you have a drum kit. Any amplifiers should be checked and packed securely.
Most clubs have their own P.A. system and someone to run it. However, you should confirm that before you arrive.
You're almost certainly used to carting your gear around to practices. That's just as well, because although you're going to be playing for an audience, you're still going to be your own road crew. Set up quickly and professionally - no messing around.
With luck you'll have a sound check. These are important to set vocal and instrumental levels before you start playing. However, as bottom of the bill, you're also lowest on the pecking order, so you'll probably only receive a very brief check if time allows. Don't complain - everyone came up the same way.
There will be several hours between set up and show time. Don't spend them drinking. Get a meal, discuss the set list, and psych yourself up for the show. Take water onstage for your performance - you'll need it.
After The Gig
The first thing is to tear down and move your equipment immediately. You'll probably be feeling the adrenaline rush that comes from performance, but wait to savour that. Instead, clear your gear off the stage to allow the next artist to set up.
Once that's complete, enjoy a drink - most clubs will give performers at least one free drink token. Dissect your performance. If it was good, talk about the high points. If it disappointed you (and most real artists are never satisfied with their work), why didn't things work? How can you improve them next time?
For one night you can rest on your laurels. But next morning you need to start making the rounds again, finding another gig, then another. It never stops, but as your reputation grows, it becomes easier, and you'll need to cast your net wider, playing other cities.
The more you play in public, the greater your confidence grows. You become tighter and more adept at glossing over the tiny errors that occur. Keep rehearsing regularly, but keep striving to play in public too.
You might also like...