Equipment for Making Music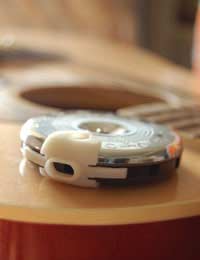 If you want to, you can make music out of anything, even your own body (try opening your mouth and tapping your cheek, for example, or tapping different parts of the body with your hands). In the 1950s, fans of the skiffle craze constructed basses from a tea chest, a broom handle and string. A primitive but common form of violin among American sharecroppers of the early 20th century was a piece of wire attached to two nails on a plank. In other words, you don't have to spend thousands to be a musician. But if you're going to learn an instrument, there are a few tips that might help you.
Buy the Best You Can Afford
You need to be realistic about how much you want to spend, and stick to it. It's all very well, for instance, to covet a 1950s vintage Gibson Les Paul electric guitar, but if your budget is £200, window shopping is the best you can do. However, it's quite possible to get good, cheap instruments. These days, both China and Eastern Europe produce musical instruments, especially stringed instruments of very good quality at an extremely competitive price. Look around, go into several music shops and try several different brands. Don't buy the first instrument you play - compare it to others.
Action
Regardless of the instrument you buy, the action is important. In stringed instruments it's the pressure you need to push down the strings, and how high they are from the fingerboard (the lower the action, the easier to play and the more fluid your movement). At the same time, the strings shouldn't be low enough to buzz when played.
With reed instruments, the action depends on how the keys move the pads that cover the holes. This is how you make the notes, and each key should move easily and smoothly, without sticking. Try each one individually, then blowing in the mouthpiece (using a reed, of course), to check that the pads cover the hole properly.
Brass instruments can depend on valves or slides. With the trombone; check that the slide moves in and out easily. For trumpet and others, play with the valves that you use to form the notes. There should be not sticking, and each valve should move readily back to the out position.
Keyboards should have all keys working, with none sticking, and everything in tune. With a piano of any type, be sure it will fit in the room at home - and that it can actually go through the door! (There have been many instances of people buying pianos only to find they had no way of getting them into their residences).
Construction
The way the instrument is constructed is always important, of course, but particularly so with strings, where there's a huge amount of tension on the join between neck and body from the pressure of taut strings, and the instrument relies on a hollow body to produce the sound. Inspect all the seams and particularly the area where the neck and body meet. Talk to the shop about their policy should the neck snap or the body come apart.
Some reed instruments, such as the clarinet, are in sections, and you assemble them before playing; others have a separate mouthpiece. In both instances be sure the pieces fit together tightly, but without forcing, and that they also come off easily.
Used Instruments
Buying a used instrument can represent a significant saving over new, but you need to exercise a lot more caution. Any instrument should be played before you make your decision, so EBay isn't a good idea here. Ask plenty of questions - who played the instrument? Were they professional or beginner? How long have they had the instrument?
Inspect carefully for cracks and repairs, especially on stringed instruments. If there's any cracking on the body or neck join, reject the instrument immediately; you're probably just going to buy trouble. Check the action as you would on any new instrument.
With reeds, apart from testing as you would with a new instrument, look carefully at the pads. If they're heavily worn, don't buy it; you'll only need to replace the set, which can cost up to £300, making it a very expensive bargain.
Pianos not only need all working keys, but should be in tune, unless you're willing to spend money on having a professional piano tuner come out. Once again size is a factor, but look under the lid. Are the hammers in good condition? Is the construction solid?
Amplification
Buying an electric instrument of any kind means buying amplification too. Exactly what you purchase really depends on how you're going to use the instrument. But for practicing at home, a 100 watt amplifier with two cabinets each containing four 12" speakers is overkill. The best thing is a small practice amp. However, you have to try it out to be sure it can produce a clear, sharp tone at low volume. There are even small, battery-powered amplifiers (favoured by buskers) that you can carry with you quite easily. If you're looking at a used amp, make sure it turns on and off properly, and that there are no crackles when you play, which could indicate a short somewhere inside.
Singers need microphones if they're performing with a group. You can use almost any type of microphone (the group Chumbawamba made an entire album using mics they'd purchased for £1.99 each at an office supply shop!), but if you want good quality reproduction, go for a good quality dynamic microphone, which are best for close-up sound. 'Shure' make top-of-the-line equipment (the choice of many professionals), but that might be out of your price range. Again, buy the best you can afford, and try them out in the shop before your purchase. The biggest criterion is how it sounds to your ears.
You might also like...