Music Studio Software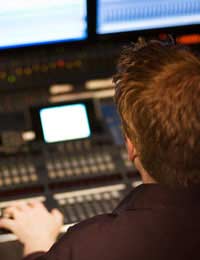 One of the most common ways of recording these days is on the computer, and there's plenty of software available to let you do it. It can be basic and easy to use, or as complex as Pro Tools, which is used by all the top studios. With all the bells and whistles, it's the top of the line - with a price tag to match.
What Do You Want From A Studio?
What you want from a studio should determine the kind of software you buy. If you're not too computer savvy, don't go for something which involves a very steep learning curve, for instance.
A lot also depends on the type of computer you have, too. With a Mac you can run Garage Band, which is simple to use - but not available for PC. If you don't have a fast processor or a lot of memory, don't try and run the latest software, because your machine simply won't be able to handle it. Check the computer requirements.
Make sure you have a good sound card. You'll need that to be able to record and play back the sounds.
Think of your budget. To record into a computer, you'll need a pre-amplifier for instruments like guitars so they can achieve the necessary volume. Alternatively, you could buy a small mixer with "phantom power" that will work as a pre-amp - and also lets several instruments record at once onto a single track, if you desire. That's part of what you'll have to spend.
What The Studios Offer
Because they're digital, the studios offer you the chance to easily edit - and the sound you put in is the sound you get out (unless you use the onboard effects most software offers). Everything is laid out on the screen, allowing you to cut, cut and paste, and copy and paste entire tracks or sections quite easily.
Almost every software package includes "automated mixing" that makes your mix down process simple. You can go through track by track and set each one in the mix, so you don't have to fly between the faders. Once set, tracks can be re-set, with even minute adjustments made.
These days, in essence there's very little to choose between most of the software studio packages. They can mostly do the same things - it's all a question of how much they can do, and the effects they have as part of the package. The more they have, the greater the cost. For most people, there's no need to spend the earth to be able to get the sound you want. Pro Tools, CuBase and Reason are all well and good, but you can do almost everything with Cool Edit or Cakewalk - or even Pro Tools free.
One thing that you will find is that it will take you a little while to master the basics, as it's a new skill to learn.
The Advantages of Studio Software
Digital software studios offer several advantages over the old analogue tape methods. It's far easier to be exact in your edits, "punch-ins" and overdubs.
Once you've learnt the basics, you'll discover it's much easier to use this software than the older analogue recorders.
The possibilities of recording in this manner are much greater. It's easy to import programmed tracks or samples which are such an important part of music today.
Whether for simply putting down ideas or creating full finished tracks or an entire CD, software studios can do the entire process quickly and easily.
You might also like...